A similar sign as one above greeted us once again last weekend. I don't think I have ever blogged about this place even though every single outing here could have been written about. This trip of ours was the best out of the many we took here. Here is a short story of this little place and how we spent our time there.
Around Government Camp there are of acres and acres of wilderness. One of the Fed projects to stimulate the economy during the Great Depression was to build a beautiful lodge, called the Timberline Lodge. Here is how it looks in the winter:
Well, this is not exactly the lodge we stay in, but we visit it often during winter month to sip their house $5 (gulp) cocoa here: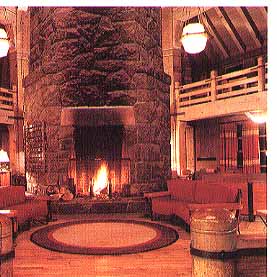 Our place is a little cabin built for the workers (and maybe by the workers them selves) who worked on the beautiful lodge above. The owners of that cabin are one of my husband's good clients who trust him to keep the keys from this lodge. These people are beyond nice. Once in a while they email us and ask us if we are thinking of heading up there anytime soon. Its a cute little place with a kitchen, dining area, cozy living room, two bedrooms and a loft.
photo taken by one of my kids :)
Besides having everything one would ever need for their stay in this lodge, it is also located right on the river.
My favorite part is that there is no reception there. So Internet and cell phone use is off limit. There is no cable of coarse either though a collection of good movies exist.
It feels different and very good not to be plugged in. Though our family has long ago turned off the TV, my husbands cell phone rings all the time and I am often found by the computer. The days without all of that seemed long, but enriched with lots of conversation (my sister and her husband joined us for our stay and my parents came for a few hours), game playing, mushroom picking, wood chopping, going on walks, magazine reading, drawing pictures of things we see there, delicious, homemade goodies eating and plain old chillin'!
Every time we come out here, I cannot believe that we get to enjoy this without paying a dime. Well, almost. My husband is the handyman for this place. If something needs done, he does it. It is great for us because this work does not take a long time and its great for them not to have anyone come out this far to fix little things. This has worked well for us. I look forward to coming here again sometime in the future. In the winter, we like to go sledding with the kids and come back to the lodge to warm up by the fire . In the summer time, we sit by the river a lot and have gone on hikes near by. Autumn, I think it my most favorite because of how beautiful it is there with the leaves changing colors and mushroom picking and eating! Look at the size of the thing!
Here is another one of its kind we found on the side of the road.
This seems to be a kind of borlet mushroom, but I wasn't sure enough to try to eat it!
Speaking of eating, my baby girl learned how to make scrambled eggs. I found her feeding the family in the morning as I was dragging my sleepy self from the bed.
All in all, we feel truly blessed to be able to enjoy this place, it is one of our favorite places to be. I think about this every time I get out from our stuffy, city filled air car and breath in the fresh air that is there.